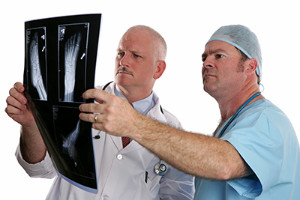 The foot is made up of a complex system that includes 26 bones, 33 joints and over 100 tendons. There are a variety of conditions that can arise and affect this system, and a podiatrist has the proper training and expertise to help. Podiatrists are able to treat heel pain from conditions such as plantar fasciitis (inflammation of the tissue along the bottom of the foot) and heel spurs (bony growths on the bottom of the heel). Foot pain caused by sesamoiditis, bunions, or a neuroma, can be diagnosed and treated by a podiatrist too. Most podiatrists are even trained and equipped to handle different ailments involving the ankles. When an individual is afflicted with an ankle sprain or fracture, a podiatrist who is board certified in foot surgery can take X-rays to determine the severity, and perform surgery when deemed necessary. Podiatrists are also experienced with biomechanics and gait analysis. Some foot specialists even offer custom made orthotics in their office! If you develop any type of pain in your foot or ankle or notice something as common as a corn, callus, or ingrown toenail, be sure to consult with a podiatrist for a proper diagnosis as well as various treatment options. 
If you are experiencing pain in the feet or ankles, don't join the stubborn majority refusing treatment. Feel free to contact Gabe Rodriguez, DPM from Sioux Falls Foot Specialist. Our doctor can provide the care you need to keep you pain-free and on your feet.
What Is a Podiatrist?
Someone would seek the care of a podiatrist if they have suffered a foot injury or have common foot ailments such as heal spurs, bunions, arch problems, deformities, ingrown toenails, corns, foot and ankle problems, etc.
Podiatric Treatment
A podiatrist will treat the problematic areas of the feet, ankle or lower leg by prescribing the following:
Physical therapy
Drugs
Orthotic inserts or soles
Surgery on lower extremity fractures
A common podiatric procedure a podiatrist will use is a scanner or force plate which will allow the podiatrist to know the designs of orthotics. Patients are then told to follow a series of tasks to complete the treatment. The computer will scan the foot a see which areas show weight distribution and pressure points. The podiatrist will read the analysis and then determine which treatment plans are available.
If you have any questions please feel free to contact our office located in Sioux Falls, SD . We offer the newest diagnostic and treatment technologies for all your foot and ankle needs.
Read more about What is a Podiatrist?