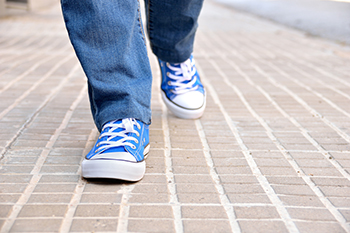 Some children develop sweaty sock syndrome which is also known as juvenile plantar dermatosis. Symptoms can include redness and scaly skin on the bottom of the feet. This condition is commonly seen in boys who are 4-8 years old, but it has also affected children who range from 3 to 15 years old. Juvenile plantar dermatosis can become chronic, sometimes lasting for about 3 years, but it generally dissipates as the child reaches puberty. Going from moist to dry conditions is thought to contribute to sweaty sock syndrome, but the actual cause is not clear. It is commonly noticed on the big toe, ball of the foot, and the heel as those places bear the most weight. The skin appears red, shiny, and smooth, but sometimes develops cracks. Home remedies suggest wearing breathable shoes, avoiding plastic or rubber footwear, and moisturizing the feet at night with petroleum jelly. If your child's condition persists or worsens, please consult with a podiatrist who can better evaluate the problem and offer further treatment options. 
The health of a child's feet is vital to their overall well-being. If you have any questions regarding foot health, contact Gabe Rodriguez, DPM of Sioux Falls Foot Specialist. Our doctor can provide the care you need to keep you pain-free and on your feet.
Tips for Keeping Children's Feet Healthy
Make sure their shoes fit properly
Look for any signs of in-toeing or out-toeing
Check to see if they have Clubfoot (condition that affects your child's foot and ankle, twisting the heel and toes inward) which is one of the most common nonmajor birth defects.
Lightly cover your baby's feet (Tight covers may keep your baby from moving their feet freely, and could prevent normal development)
Allow your toddler to go shoeless (Shoes can be restricting for a young child's foot)
Cut toenails straight across to avoid ingrown toenails
Keep your child's foot clean and dry
Cover cuts and scrapes. Wash any scratches with soap and water and cover them with a bandage until they've healed.
If you have any questions, please feel free to contact our office located in Sioux Falls, SD . We offer the newest diagnostic and treatment technologies for all your foot care needs.
Read more about How to Care for Your Child's Feet