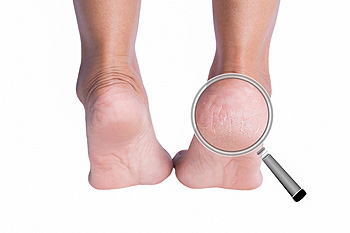 Approximately 20% of all adults in the United States will experience heel fissures, or "cracked heels," at least once during their lifetime. Cracked heels typically occur when the skin surrounding one's heel becomes noticeably tough, dry, and thick. The dried skin around the heel can eventually crack, creating fissures. The risk of developing cracked heels is markedly higher during the winter season when the colder weather typically makes the skin drier. If you are experiencing cracked heels, you may be able to make use of several at-home remedies. For example, you may soak your feet in water for approximately 20 minutes and use a pumice stone to gently remove the hardened skin cells. Afterwards, you may apply a heavy-duty moisturizer to the back of your heel. Typically, moisturizers containing ingredients such as petroleum jelly or glycerin can effectively nourish the skin. To address cracked heels, you might also use alpha-hydroxy acids or urea to target hardened skin cells and effectively remove them from your heels. If at-home remedies like these fail to mitigate cracked heels, this could be a sign to consult a podiatrist. Ultimately, cracked heels can be an unsightly annoyance, but you and your podiatrist can take steps to address the affliction. 
If the skin on your feet starts to crack, you may want to see a podiatrist to find treatment. If you have any concerns, contact Gabe Rodriguez, DPM from Sioux Falls Foot Specialist. Our doctor can provide the care you need to keep you pain-free and on your feet.
Cracked Heels
It is important to moisturize your cracked heels in order to prevent pain, bleeding, and infection. The reason cracked heels form is because the skin on the foot is too dry to support the immense pressure placed on them. When the foot expands, the dry skin on the foot begins to split.
Ways to Help Heal Them
Invest in a good foot cream
Try Using Petroleum Jelly
Ease up on Soaps
Drink Plenty of Water
Ways to Prevent Cracked Heels
Moisturize After Showering
Skip a Shower
Keep Shower Water Lukewarm
Don't Scrub Your Feet
If you are unsure how to proceed in treating cracked heels, seek guidance from a podiatrist. Your doctor will help you with any questions or information you may need. 
If you have any questions, please feel free to contact our office located in Sioux Falls, SD . We offer the newest diagnostic and treatment technologies for all your foot care needs.
Read more about Solutions for Cracked Heels