September 2019
Monday, 30 September 2019 00:00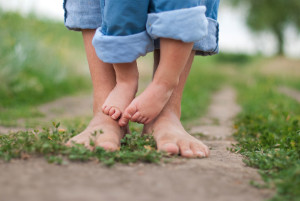 The importance of properly taking care of your child's feet is crucial in possibly preventing certain foot conditions from developing. Children's feet may be sweaty for the majority of the day, and it is important to wash and dry them on a daily basis. This may prevent athlete's foot from occurring. Research has indicated that children's feet may become stronger when they can walk barefoot while indoors. This can be a result of the grasping motion that occurs when the toes touch the floor. Ingrown toenails may be prevented when the toenails are cut frequently and in a straight line. Additionally, when it is time for your child to walk outside, it is helpful to purchase shoes that fit properly. This can be accomplished by measuring your child's foot to determine the correct shoe size. If you would like more information about how to take care of your child's feet, it is suggested that you speak with a podiatrist.
Making sure that your children maintain good foot health is very important as they grow. If you have any questions, contact Gabe Rodriguez, DPM of Sioux Falls Foot Specialists. Our doctor can provide the care you need to keep you pain-free and on your feet.
Keeping Children's Feet Healthy
Having healthy feet during childhood can help prevent medical problems later in life, namely in the back and legs. As children grow, their feet require different types of care. Here are some things to consider...
Although babies do not walk yet, it is still very important to take care of their feet.
Avoid putting tight shoes or socks on his or her feet.
Allow the baby to stretch and kick his or her feet to feel comfortable.
As a toddler, kids are now on the move and begin to develop differently. At this age, toddlers are getting a feel for walking, so don't be alarmed if your toddler is unsteady or 'walks funny'.
As your child gets older, it is important to teach them how to take care of their feet.
Show them proper hygiene to prevent infections such as fungus.
Be watchful for any pain or injury.
Have all injuries checked by a doctor as soon as possible.
Comfortable, protective shoes should always be worn, especially at play.
If you have any questions please feel free to contact our office located in Sioux Falls, SD. We offer the newest diagnostic and treatment technologies for all your foot and ankle needs.
Read more about What to Do to Keep Your Child's Feet Healthy
Monday, 23 September 2019 00:00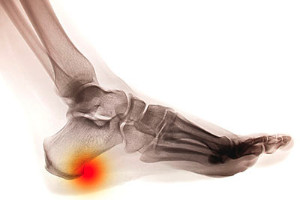 A small and hard protrusion that forms in the heel of the foot is referred to as a heel spur. They can have different shapes that can include being flat, hooked, or pointy. It begins in the heel, and typically grows toward the arch of the foot. It generally produces pain and discomfort while walking, standing, or running. Some patients experience swelling, and the heel may feel achy for the majority of the day. As the aging process occurs, the heel pads may become thinner, and may fail to provide adequate shock absorption. Calcium deposits may gradually develop, the deposits form bony protrusions, which are heel spurs. Patients who are overweight or walk on hard surfaces could be prone to developing this type of foot condition, in addition to wearing shoes that do not fit correctly. Relief may be felt when the foot is elevated, and it is beneficial to wear shoes that have additional cushioning. If you have developed a heel spur, it is advised that you consult with a podiatrist who can properly treat this condition.
Heel spurs can be incredibly painful and sometimes may make you unable to participate in physical activities. To get medical care for your heel spurs, contact Gabe Rodriguez, DPM from Sioux Falls Foot Specialists. Our doctor will do everything possible to treat your condition.
Heels Spurs
Heel spurs are formed by calcium deposits on the back of the foot where the heel is. This can also be caused by small fragments of bone breaking off one section of the foot, attaching onto the back of the foot. Heel spurs can also be bone growth on the back of the foot and may grow in the direction of the arch of the foot.
Older individuals usually suffer from heel spurs and pain sometimes intensifies with age. One of the main condition's spurs are related to is plantar fasciitis.
Pain
The pain associated with spurs is often because of weight placed on the feet. When someone is walking, their entire weight is concentrated on the feet. Bone spurs then have the tendency to affect other bones and tissues around the foot. As the pain continues, the feet will become tender and sensitive over time.
Treatments
There are many ways to treat heel spurs. If one is suffering from heel spurs in conjunction with pain, there are several methods for healing. Medication, surgery, and herbal care are some options.
If you have any questions feel free to contact our office located in Sioux Falls, SD. We offer the latest in diagnostic and treatment technology to meet your needs.
Read more about Heel Spurs